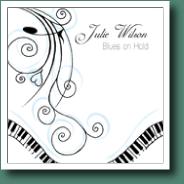 Review from "Jazz Scene"
Jazz in the Pines 2010 Norfolk Island
Have you ever considered the trip to Norfolk Island for Jazz in the Pines? My wife and I had thought we might visit Norfolk Island because its history is so fascinating (the descendants of the Bounty mutineers live there, having relocated
from Pitcairn Island in 1856), but adding jazz to the package was irresistible. The line-up featured Julie Wilson, an outstanding jazz vocalist from Newcastle. Julie sang mostly in the Diana Krall/Norah Jones style, but with some novel arrangements and originals. Her open and engaging interaction with the audience made her an instant favourite.
©2016 Julie Wilson. Website by Omniart.
24th April 2016 – Charlestown Leagues - Andy Firth's Nova Swing.





30th April 2016 – Andy Firth's Nova Swing Jazz band - Lizottes New Lambton.



5th October 2016 – Andy Firth's Nova Swing Jazz band - Saint Georges Auditorium Kogarah.



26th & 28th August 2016 – Newcastle jazz festival - Andy Firth's Nova Swing featured vocalist.